Posted by: Lori Reinhold
Sedona, Arizona is a place of both rich history and incredible natural beauty. Often times, you can experience both in one place. Whether you visit ancient Native American dwellings built into soaring red rock cliffs or historic forts and mansions, you will be amazed by both the stories you hear and the sights you see. Here are our favorite historic sites located in and around Sedona.
Native American Sites
Palatki Heritage Site is probably the most well-known and heavily visited Native American historical site in the area. Come to Palatki, and its sister site, Honanki, to learn about the history, art, and culture of Sedona's original inhabitants, the Hopi. Located in the Coconino National Forest, Palatki and Honanki are home to some of the largest cliff dwellings of the Red Rock country.
However, there are many other excellent historical sites located throughout the region. Tuzigoot National Monument is an ancient Sinagua pueblo crowning a beautiful desert hilltop. Take the self-guided, ⅓-mile loop to explore the fascinating pueblo and soak in incredible views of the Verde River and Tavasci Marsh. The ancient pueblos at Wupatki National Monument are sprinkled throughout the gorgeous red rock landscape, located between desert and dense ponderosa pine forests. You will be amazed at the way the Sinagua people thrived despite the inhospitable desert terrain, working, forming families, and creating amazing art. At the site, they offer ranger-led Guided Hikes of various lengths and levels of difficulty. The Crack-in-Rock Hike is a strenuous, two-day ranger led hike that will take you deep into some of Wupatki's most fascinating and beautiful sites.
Head to Montezuma Castle to see another one of the best preserved cliff dwellings in North America. People often liken Montezuma Castle to a 20-room high rise built into a towering limestone cliff. Pretty impressive, considering it is still standing after 800 years! The easy self-guided tour takes you past the 5-story cliff dwelling, through a lovely sycamore grove, and along Beaver Creek. If you have time, make sure to visit the Montezuma Well too.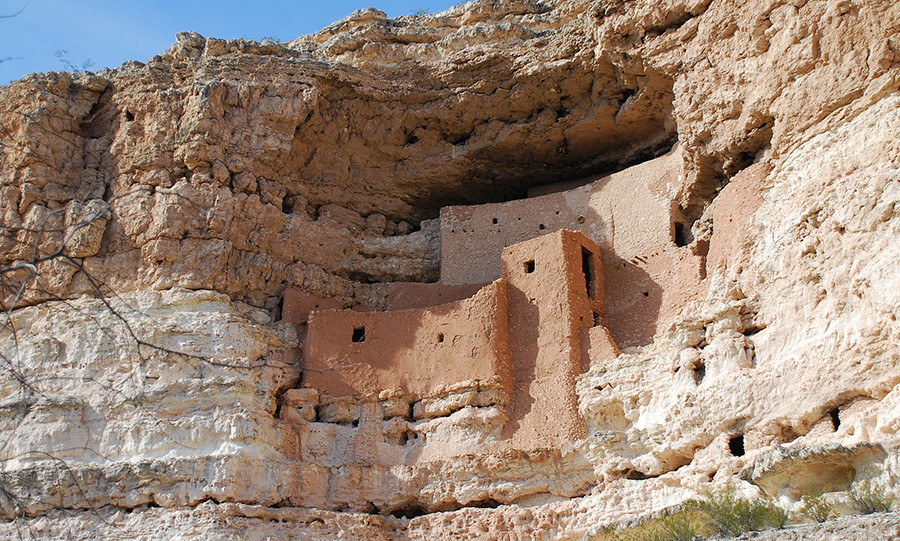 Montezuma Castle. Photo Credit: National Parks Service
If you are interested in the Hopi after seeing Palatki, considering paying a visit to Homolovi State Park. Here, archeologists work on-site to research Hopi migration from the 1200s to the late 1300s. "Homolovi" means the "Place of the Little Hills" in Hopi. There are museums, trails, picnic tables, and a campground within the park.
Forts, Homes, and Other Historic Sites
During the 1870s and 1880s, Fort Verde State Historic Park was the base for General Crook's army scouts and soldiers. At the park, you can visit three historic house museums: the Commanding Officer's Quarters, the Bachelors' Quarters, and the Doctors & Surgeons Quarters, as well as a variety of exhibits featuring artifacts from the Indian Wars and those who lived at Fort Verde. Sometimes, they even put on historical reenactments.
Riordan Mansion State Historic Site near Flagstaff is one of the finest examples of Arts and Crafts style architecture around today. This beautiful log mansion was built in 1904 and designed by Charles Whittlesey, who designed the El Tovar Hotel at the Grand Canyon. At its time, the mansion was well-known for its advanced technology, including indoor plumbing, hot and cold running water, central heating, and electric lights.
Rich copper deposits were found on the site of Jerome State Historic Park in 1876. It became the site of Daisy Mine and later, the grand Douglas Mansion. The house was designed as a hotel for mining officials, investors, and Douglas' own family. The mansion featured a wine cellar, billiard room, marble shower, steam heat, and a central vacuum system. Now, you will find a museum featuring a history of the Jerome area, mining, and the Douglas family. The museum includes photographs, artifacts, minerals, an informational video, and a 3-D model of old Jerome and its underground mines. Outside, you'll find old mining equipment, classic cars, and a 1,900 foot-deep mining shaft, deeper than the Empire State building is tall!
Planning a trip to Sedona's incredible natural historic sites and landmarks? Book a stay at the Alma de Sedona Inn for warm service and unbeatable red rock views.