Posted by: Lori Reinhold
The Grand Canyon, one of the Seven Wonders of the Natural World, is located right in Sedona's backyard. People dream about visiting the park their entire lives and plan trips to this famous national treasure years in advance. If you stay in Sedona, all you have to do is make an easy two hour drive.
By making Sedona your base camp during your Grand Canyon adventure, you don't have to worry about booking a campsite years in advance or paying too much for over-priced lodging near the park. You can leave for the Grand Canyon early in the morning and return in the evening for delicious places to eat and comfortable places to stay (like the Alma de Sedona Inn.) You can also enjoy world-class spas, shopping, art galleries, and more.
The Grand Canyon is the ultimate Sedona day-trip, but planning a trip to this iconic landmark can feel like a big undertaking. With over 6 million visitors a year, the Grand Canyon is one of the most highly visited national parks in the world.
Watch this informative video about exploring the park in 4 hours or less, provided by the National Park Service.
Here are our tips for how best to explore the Grand Canyon in a single day.
How To Get There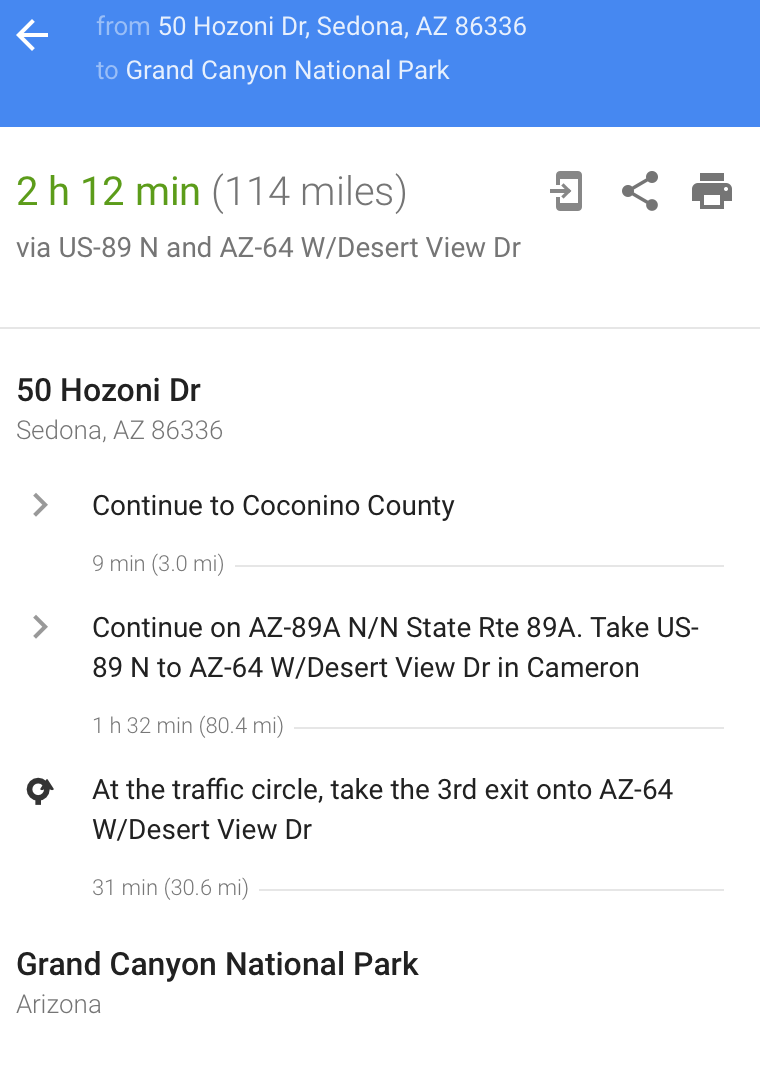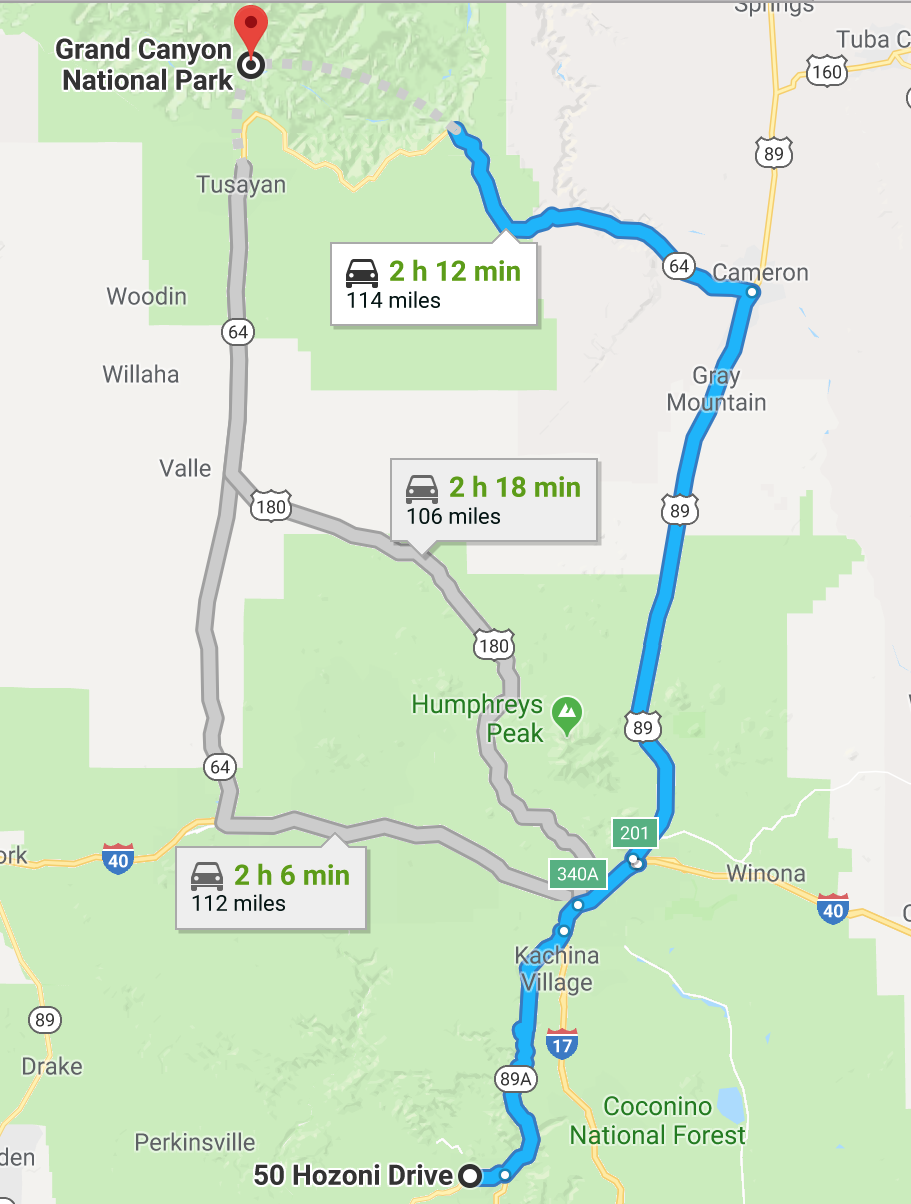 Grand Canyon National Park is located 112 miles from the Alma de Sedona Inn. It is an easy (and beautiful) two-hour drive. There are a few different ways to get to the Grand Canyon from Sedona, but we like to send our guests on the indirect route through Flagstaff along route 89N. This route will take you on a semi-circle road that goes through Sunset Crater and on to Wupatki Ruins. You can stop at the Historic Cameron Trading Post at Rt64 and then head into the canyon via the East Gate. We are happy to provide you with more details once you get here.
Practical Tips
Arrive by 9 am to beat the crowds and find good parking. Most day-visitors park in lots A or B of the Grand Canyon visitor center.
The park's South Rim is open year around. Be sure to check detailed weather information before you go.
Admission to the park is $30 per private vehicle; $25 per motorcycle, and $15 per person entering by any other means (ie. Grand Canyon Railway, park shuttle bus, private rafting trip, walking, or riding a bicycle).
There is a free shuttle bus that connects visitors to various sites and scenic points along the South Rim. The bus stops are located approximately every mile along the route and arrive every 15-30 minutes. Simply park your car and hop on. No need to buy a ticket. The shuttle is included in your entrance fee.
The Grand Canyon Village, Market Plaza, and several of the park's lodges offer dining options. However, We like to pack a lunch and eat at a picnic table or lookout while enjoying those amazing views. It is the kind of lunch you'll never forget.
ALWAYS bring sunscreen, sunglasses, a wide-brim hat, and plenty of water, particularly in the summer. It is a desert after all, and the park DOES NOT sell or provide bottled water of any kind. There are stations to refill visitor-provided bottles, so be sure to bring some reusable bottles at the very least. Water is imperative in a desert environment like the Grand Canyon.
The Best Drives
If you plan to explore the canyon entirely by car, there are several routes you can take for scenic vistas and viewpoints. You can also pass along these routes using the free shuttle.
Hermit Road: This seven mile route takes you past a whopping nine scenic viewpoints and numerous unnamed overlooks. Travel from the west end of the Grand Canyon Village along the South Rim to Hermit's Point, passing Powell Point, Hopi Point, Mojave Point, The Abyss, Monument Creek Vista, and Pima Point along the way.
Desert View Drive: For 22 breathtaking miles, you will soak in breathtaking views of the canyon and the beautiful Colorado River. You can also stop at several splendid points along the way, including Yaki, Grandview, Moran, Lipan, Navajo, and Moran. We suggest you climb to the top of the Desert View Watchtower for an unbeatable 360-degree view.
Yavapai Point and Mather Point: Drive to Mather Point and then walk to nearby Yavapai Point for what many consider the best panorama in the park.
Easy Activities
Participate in a guided van tour to the Grand Canyon National Park to learn about the history and geology of the park without leaving the air-conditioned comfort of a vehicle
Watch the 22-minute documentary film The Grand Canyon: A Journey of Wonder at the Grand Canyon Visitor Center
Learn about the canyon's breathtaking rock formations at the Yavapai Geology Museum, where you'll find fascinating 3D maps and exhibits about the natural history of the park
Walk along the Rim Trail from the Grand Canyon Village for as long as you'd like
A Few Short Hikes
Everyone goes to the Grand Canyon for those spectacular views from the South Rim. While panoramas of the canyon are truly awe-inspiring, to really understand the beauty of the landscape we highly recommend taking a hike. There are many short hikes you can take that allow you to get up close and personal with the canyon's natural beauty without traveling too far.
Kaibab Trail to Cedar Ridge (3 miles total, round-trip)
Skeleton Point (6 miles total)
Grandview Trail (about 2.5 miles to the first overlook and back)
Bright Angel Trail (3 miles round-trip)
If you have always dreamed of visiting the Grand Canyon, your next trip to Sedona might be the perfect opportunity. Simply drive two hours and you will find yourself face-to-to-face with this truly awe-inspiring national landmark. Sedona boasts many beautiful landscapes and cultural offerings of its own. By adding on the Grand Canyon, you will truly experience the vacation of a lifetime.
Planning a trip to Sedona, Arizona? Book a stay at the Alma de Sedona Inn for a great location, warm hospitality, and incredible red-rock views.