Posted by: Lori Reinhold
Do you consider yourself a film buff or are you interested in watching movies that could potentially have a big impact on Hollywood at some point in the near future? If so, then you should consider attending the Sedona International Film Festival in Sedona, Arizona.
Every year, directors, actors and producers – and film buffs, too! – join together and screen movies in Sedona as part of this annual celebration of independent film. It's an amazing experience for anyone who loves movies, and by staying at the Alma de Sedona Inn during the festival, which runs from Feb. 18-26, 2017, you can get in on the action this year and see what all the hype is about.
The History of the Sedona International Film Festival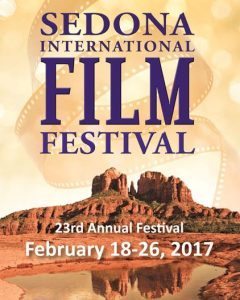 The Sedona International Film Festival, which is often referred to as "SIFF," was created back in 1994 as a way for independent filmmakers to show off their latest feature films, documentaries, short films, animated works and student projects, notes the SIFF's official website. Since then, the film festival has grown steadily and, today it's considered one of the best film festivals in the entire world.
Every year, the film festival's board of directors sifts through hundreds of submissions and selects the very best ones to showcase during the festival. They also routinely honor different directors and actors and hold educational workshops to teach people more about the film industry and everything that goes into making a movie. The festival's original goal was to shine a light on the power of independent film, and that mission is still being carried out today by those who run the festival.
What You Can Expect When You Attend
If you decide to attend the Sedona International Film Festival, you should be prepared to spend a lot of time watching films, of course! In 2016, there were more than 160 features, documentaries, shorts and animated movies that were screened throughout the length of the festival. The event runs for eight full days, and in the weeks leading up to the 2017 festival guests will get access to an interactive calendar that will provide a schedule of every single movie that is going to be screened. By having the schedule released in advance, visitors to the festival can pick and choose want to see during their stay in Sedona.
Over the years, there have been quite a few award-winning films that have been shown at the Sedona International Film Festival. From Academy Award-nominees like "Genghis Blues" in 1999 and "Why Can't We Be a Family Again?" in 2002, to powerful documentary films like "Inside Job" in 2010, many important movies have been shown in Sedona since it first started. Every year, the festival names award winners which are determined by both directors and the audiences who see the films shown in Sedona. Often times, these awards help determine which movies get a wider release after the festival.
Outside of showcasing new films, the Sedona International Film Festival also serves as a celebration of those who have already accomplished great things within the film industry. In the past, there has been a number of high-profile members of Hollywood honored at the film festival. Some of the notable names include Michael Moore, Connie Stevens, Jerry Stiller, Peter Fonda, Doris Roberts, Nick Nolte, Rick Schroder, Linda Gray, Ted Danson, Scott Baio and Jena Malone. So you won't only get to see stars on the big screen when you're at the film festival—you will also get to see them walking around at the festival and attending events. It's part of what makes the Sedona International Film Festival so special.
How to Make the Most of the Festival
While the Sedona International Film Festival provides an opportunity to experience films in a whole new way, you should consider more than just which films you're going to see before you decide to attend. You should also think long and hard about where you're going to stay during your time in Sedona.
The Alma de Sedona Inn offers our Wonderful Winter special during the festival that will allow you to enjoy your time in Sedona. You will get excellent views of the area and its distinctive red rock scenes, while still enjoying your privacy, impeccable services, and a range of accommodations that will have you booking a trip to Sedona every year. We know that you are going to spend a lot of time watching movies during the week of the Sedona International Film Festival, but we want you to enjoy your downtime, too, and we will do whatever we can to make your stay better.
If you are planning on visiting Arizona for the Sedona International Film Festival in February, now is the best time to make your reservations! Tickets for the festival go on sale Nov. 20, so stay tuned to the festival site to get discounted passes as soon as they are available. And don't forget to call us at 928-282-2737 today to find out about the excellent rates that we are offering, or make your reservations conveniently online now.