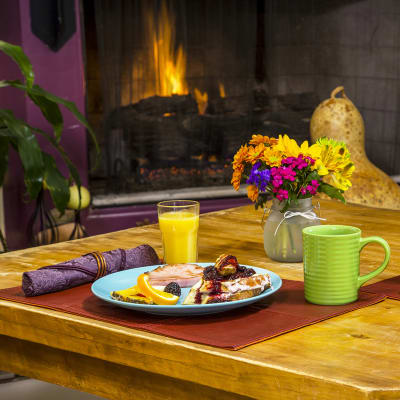 Breakfast
Starting Your Day with our Famous Breakfast
Mornings start with custom brewed coffees or tea. Always available are juices and warm from the oven muffins or scones. The main course at breakfast varies daily, tempting your taste buds with gourmet delights and generous portions. Granola and yogurt are available on request, and we are happy to work with your special dietary needs. Try one of our mouth watering recipes HERE
No matter what time of year you visit, breakfast will be a special time.
In the summer we serve poolside and during the cooler months we serve in our dining room. During very cold days, enjoy your breakfast next to a warm fire.
A Sample of Our Breakfast Menus
A Few of Our Egg Dishes
Spinach & Leek Quiche
Egg Quesadilla (Scrambled Eggs, Cheese, Black Beans, Corn, Peppers & Onions in a Fresh Grilled Flour Tortilla) served with a Side of Salsa
Egg Burrito (Scrambled Eggs, Chorizo Sausage, Cheese, Diced Tomatoes)
Red Rock Eggs Benedict (Whole Grain English Muffins, Poached Eggs, Fresh Spinach, Roma Tomatoes, Roasted Red Pepper Hollandaise Sauce)
Huevos Rancheros (Corn Tortillas, Poached Eggs, Ground Turkey, Salsa Verde & Fresh Pico de Gallo)
Our Egg Dishes are served with Red Skin Home Fries or Roasted Rosemary Potatoes

A Few of Our Sweet Dishes
Three Berry French Toast Casserole (a combination of Blackberries, Blueberries and Raspberries blended with Pulled French Bread, Eggs, Cream and then baked)
Lemon Ricotta Pancakes with Boysenberry Sauce
Peach Pancakes with Ginger Butter
Orange Ricotta Pancakes with Cinnamon Butter & Maple Syrup
Strawberry Cream Cheese Stuffed French Toast
Seasonal Pumpkin Pancakes with Ginger Butter & Maple Syrup
All "Sweet" Dishes are served with either Smoked Bacon or Ham or our Signature Cranberry or Apple Hand Patted Sausage.

Breakfast Hours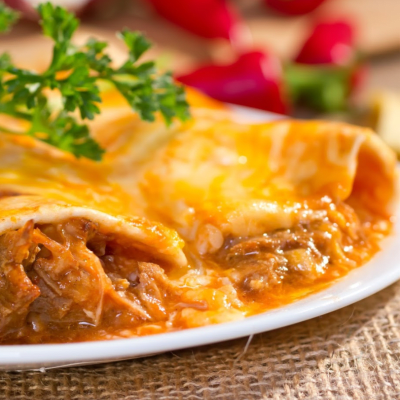 Restaurants
For lunch and/or dinner here are some of our favorite restaurants with links to their websites. We will be happy to help you make reservations or make additional suggestions.
Dahl & DiLuca Ristorante Italiano
2321 West St. Route 89A
Sedona, AZ 86336
The best Italian restaurant in town, with a great atmosphere. If you're lucky, you'll get to hear owner, Lisa Dahl, sing beautiful love songs.
Creekside American Bistro
Casual Sedona dining with full service bar and Red Rock views from inside the restaurant and on two Red Rock view patios.
Sedona Secret Garden Cafe
671 Hwy 179 #F101
Sedona, AZ 86336
The Secret Garden is my absolute favorite lunch spot in Sedona. Food is amazing and creative, wonderful outdoor atmosphere.
Heartline Café
1610 W Highway 89A
Sedona, AZ 86336
Fine food with a casual mood. Voted "Sedona's Best Restaurant" by the Red Rock News for over three years. Sophisticated, yet comfortable. Join them for dinner Thursday through Monday and see why they are Sedona's choice for a truly memorable dining experience.
Cowboy Club and Silver Saddle Room
241 N Highway 89A
Sedona, AZ 86336
The Cowboy Club serves unique "Western" food such as rattlesnake and Jalapeño Crème Brûlée in a cowboy setting. The Silver Saddle Room is their more formal dining room with a very romantic atmosphere and melt in your mouth steaks.
Golden Goose
2545 W State Rte 89A
Sedona, AZ 86336
(928) 282-1447
Casual atmosphere with great food! Lots of choices including chicken, fish, pasta, beef. Scottish Salmon with Ginger and Lime is delish!!
Elote Café
Address: Arabella Hotel Sedona 771 AZ-179
Sedona, AZ 86336
Hours: Tuesday – Saturday 5–9PM
The Hudson
671 AZ-179 (Hillside Shops)
Sedona, AZ 86336
Hours: Daily · 11:30AM–9PM
Gerardo's
2675 W State Rte 89A,
Sedona, AZ 86336
Hours: Tuesday – Sunday 3pm – 9:30pm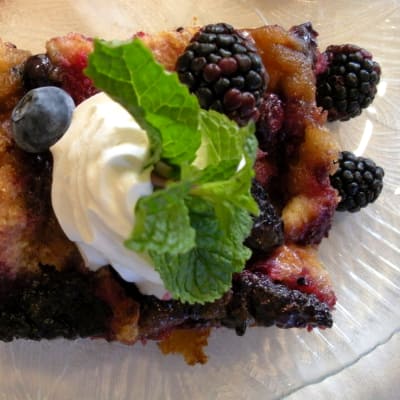 Recipes
Breakfast Quesadilla (serves 6)
Ingredients:
12 eggs scrambled
black beans, drained and rinsed
whole kernel corn drained
6 large flour tortillas
green chilies
cheddar cheese shredded
dried cilantro and lemon pepper to taste
Directions:
Scramble eggs with cilantro and lemon pepper. Meanwhile top large flour tortilla with black beans, corn, chilies and cheese (amount of topping is to personal taste) microwave for 45 seconds just to melt cheese. Put cooked eggs on half of tortilla and then fold over the tortilla to encase the eggs. Toast both sides in skillet or griddle. Cut into two portions then top with Pico de Gallo and
sour cream.
Pico de Gallo:
6 Roma tomatoes- diced
salt to taste
1 Jalapeno- diced small
1 T. fresh lemon juice
½ red onion diced small
½ bunch fresh cilantro chopped fine(combine and chill 24 hours)
Crème Brulee 3 Berry Casserole
Ingredients:
2 French Baguettes
6 eggs
1 cup sugar
3 C ½ & ½, or heavy cream
2 C 3 berry mix
½ cup butter
½ cup brown sugar
1 t. cinnamon
1 t. vanilla
Directions:
Cut bread in 1" slices then break into small pieces and place in a 9×13 pan. Whip eggs, sugar, vanilla and cinnamon until light in color and thick. Add milk, stir and pour over bread. Mix frozen berries into the bread/egg mixture. Cover and refrigerate overnight. Just before baking, in a pan, melt butter and brown sugar until bubbly. Pour mixture over the top. Bake at 325o for 1 hour or until puffed. Check after 45 minutes. Best results come from a dark baking pan. Garnish with powdered sugar, fresh berries and a sprinkle of cinnamon around the plate, fresh whipped cream, or a raspberry sauce drizzle. Makes 8 servings.
Lemon Ricotta Bread
Ingredients:
3 ounces butter, softened
2-¼ teaspoon baking powder
¾ cup ricotta cheese
¼ teaspoon salt
1 cup sugar
½ cup buttermilk
2 large eggs
1/3 cup lemon juice
4 cups flour
1 ½ teaspoon lemon zest
Directions:
Mix butter, ricotta and sugar until light. Add flour, baking powder and salt. Stir in buttermilk and lemon juice. Place into greased and flour bread pan or muffin tins. Bake at 350 for 20-25 minutes or until tester comes out clean.
Lori's Quiche
Ingredients:
5 eggs
1 frozen 9" pie shell
2 C heavy cream
(We use Marie Callender deep dish shell)
1 C grated blended cheese
6 slices bacon, diced (may sub any ingriedient you want/mushrooms, spinach, ham)
Directions:
Dice bacon and fry. Blend all ingredients.
Remove pie shell from aluminum pan and spray pan lightly with oil
Return shell to pan. Pour blended ingredients into pie shell.
Bake at 375 for 45 minutes to an hour.
Check at regular intervals to make sure the top is not too brown. If so, put a tent of aluminum foil over the quiche.
Serves 4
Huevos Rancheros(serves 6)
Ingredients:
12 corn tortillas
16oz. Tube of Turkey Store Hot Turkey Sausage
12 poached eggs
2 cups each of Las Palmas green enchilada sauce & 505 green sauce
3 cups cheddar cheese shredded
Cilantro sour cream (sour cream w/ dried cilantro to taste)
Pico de Gallo
Directions:
Cook turkey sausage to directions. Heat tortillas. Combine sauces and heat well.
Poach eggs. Lay down 2 tortillas. Top w/ turkey sausage, then 2 eggs. Top with sauce to taste, cheddar cheese, sour cream and Pico de Gallo.
Pico de Gallo:
6 Roma tomatoes- diced
salt to taste
1 Jalapeno- diced small
1 T. fresh lemon juice
½ red onion diced small
½ bunch fresh cilantro chopped fine(combine and chill 24 hours)
Blueberry Hill Scones
Ingredients:
4 C flour
1/2 C brown sugar, packed
2T Baking powder
½ t salt
2 large eggs
1/2C Butter chilled cut up
2 C blueberries
1 1/3C Heavy Cream
1 t grated lemon peel
Directions:
Preheat oven to 375º In a large bowl, with fork, mix flour, brown sugar, baking powder and salt. With a pastry blender, cut in the butter until it resembles coarse crumbs. Add blueberries and toss to mix. In a small bowl, with fork, mix cream, egg and lemon peel until blended. Slowly pour cream mixture into the flour mixture and stir with rubber spatula just until a soft dough forms. With lightly floured hand, knead dough in bowl just until it comes together, about 3 or 4 times. Don't over knead. Divide dough in half. On a lightly floured surface, shape each half into a 6 inch round. With floured knife, cut each round in 6 wedges. Transfer to ungreased large cookie sheet. Bake 22 to 25 minutes until golden.